Profil natjecatelja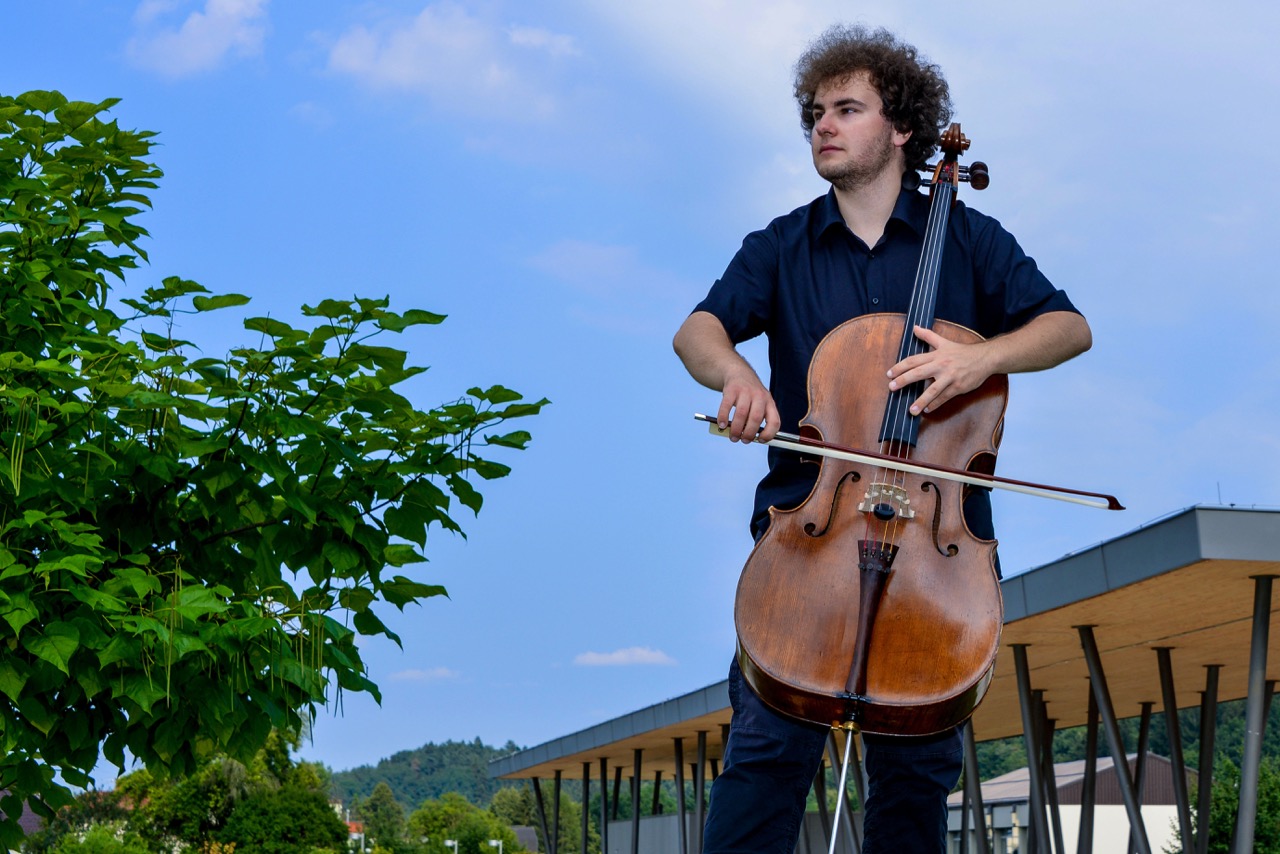 Sebastian Bertoncelj
( violončelo / rođ. 1992.g / 9.kat )
Akademija za glasbo v Ljubljani, Ljubljana, Slovenija
Mentor: Miloš Mlejnik , prof.
Korepetitor: Maja Klinar ( klavir )
Program
PRVI KRUG - 17min

1. Joseph Haydn: Koncert za violončelo D-dur
I. Allegro moderato
II. Adagio
III. Rondo


DRUGI KRUG - 17min

1. Johann Sebastian Bach: Suita br. 2 d-mol
I. Prelude
II. Allemande
2. Edward Elgar: Koncert za violončelo e-mol
I. Adagio - moderato
II. Lento - allegro molto


TREĆI KRUG - 17min

1. Johann Sebastian Bach: Suita br. 2 d-mol
IV. Sarabande
2. Edward Elgar: Koncert za violončelo e-mol
III. Adagio
IV. Allegro - Moderato - Allegro, ma non-troppo - Poco più lento - Adagio
Životopis natjecatelja
Cellist Sebastian Bertoncelj (1992) has already established himself as one of the most promising slovenian young musicians. Recently, he has performed a series of recitals and Kabalevsky's second cello concerto with Music academy Ljubljana orchestra under Maestro En Shao. In the past, he has performed and recorded concertos by Haydn, Bloch, Shostakovich, Bragato and Vivaldi with Slovenian Philharmonics, Radio orchestra Ljubljana, Chamber orchestra of Music academy Ljubljana and Festival Bled Orchestra in addition to solo and chamber music concerts in Slovenia, Italy, Austria, Switzerland, Germany and Bosnia and Herzegowina. Among most important events were two concerts in Brahms Hall of Vienna Musikverein, recital in Country Club Kitzbühel and chamber music performances in Schaffhausen, Solothurn (Schaffhauser Meisterkurse) and Sarajevo (20. SVEM).
As a devoted chamber musician he was a member of piano trio Aeternum since 2013, which has won an absolute first prize at slovenian national competition TEMSIG in march 2014. His other chamber music partners include renowned musicians such as Miloš Mlejnik, Erwin Kropfitsch, Lorenzo Cossi, Klaus Maetzel , Wonji Kim-Ozim, Wolfgang David, Boštjan Lipovšek, Dalibor Miklavčič.
After first steps on cello in his home town Domžale with Zdenka Kristl-Marinič he continued his studies at Conservatory for music Ljubljana and Music Academy Ljubljana with prof. Miloš Mlejnik, where he is currently working on his masters degree. As Erasmus Scholar he also studied in Stuttgart with prof. Conradin Brotbek and in Fall 2015 he will begin the Swiss-European exchange programme in Luzern with prof. Christian Poltera. Important musical encounters with Heinrich Schiff, Robert Nagy, David Grigorian, Gal Faganel, Reinhardt Latzko, Thomas Grossenbacher, Maja Bogdanovic and Klaus Maetzl rounded up his education.
In 2009, 2012 and 2015 he won first place at Slovenian national competition TEMSIG in addition to first prizes in Gorizia, Trieste, Vipiteno, Feldkirchen and at International competition Svirel in 2015. In 2011 he recieved Lucijan-Marija-Škerjanec-Prize for his achivements at Conservatory for music in Ljubljana and in 2013 he was recipient of the prestigious Prešeren-Prize of Music academy Ljubljana for his performances of Bloch's Schelomo and Haydn's D major concerto.
Sebastian Bertoncelj is also featured on a CD with Slovenian Philharmonic Orchestra under Maestro Loris Voltolini interpreting Bloch's Schelomo, which has been issued in May 2015.
Recently, he was awarded Yamaha Music Foundation of Europe scholarship.